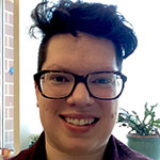 AJ Lucy  is the proud owner of a PhD in fun fish facts and a BA in drawing cool pictures. She lives in Philadelphia with her wife and hopes to someday teach scientists that writing is an important skill too. Her fiction can be found in Beneath Ceaseless Skies, Daily Science Fiction, and Strange Horizons.
Chris Kammerud is a writer, photographer, and performer. Their stories have been short-listed for the Calvino Prize and appeared in, among other places, Strange Horizons, Passages North, and Bourbon Penn. They are a graduate of the Clarion Science Fiction and Fantasy Writers' Workshop and received their MFA from the University of Mississippi, where they studied as a Grisham Fellow. They live in Brooklyn with a mysterious amalgamation of terror and hope. Find them online at @cuvols or kammerud.photography.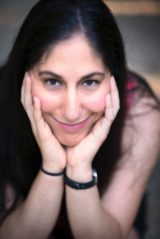 A. T. Greenblatt, by day, is a mechanical engineer who works for a vertical farming company. By night, she is a Nebula award winning writer of short fiction. Her work has been nominated for a Hugo, Locus, and Sturgeon Award, has been in multiple Year's Best anthologies, and has appeared in Tor.com, Beneath Ceaseless Skies, Lightspeed, and Clarkesworld, as well as other great publications. At all times, she lives in New York City where she's known to frequently subject her friends to various cooking and home brewing experiments. You can find her online at https://atgreenblatt.com
Kaitlin Rose Jencks is a writer, actor, and musician. She holds a degree in Vocal Performance from Berklee College of Music where she specialized in musical theater performance and writing. She is a two-time graduate of Alpha and was an assistant editor on Triangulation's Dark Skies and Extinction anthologies. When she isn't singing, acting, or writing short fiction, she writes musicals. When she isn't doing that she works for far too many Boston historical organizations and hoards history facts like a tiny trivia dragon.
Nino Cipri is a queer and transgender writer, editor, and educator. A graduate of the Clarion Writers' Workshop, and University of Kansas's MFA, Nino's fiction has been nominated for the Shirley Jackson, World Fantasy, Lambda, Nebula, and Hugo Awards. As a multidisciplinary artist, Nino has also written plays, screenplays, and radio features; performed as a dancer, actor, and puppeteer; and worked as a stagehand, bookseller, bike mechanic, and labor organizer. One time, an angry person on the internet called Nino a verbal terrorist, which was pretty funny.
Lara Elena Donnelly is the Nebula, Lambda, and Locus-nominated author of The Amberlough Dossier trilogy and Base Notes. Her work has appeared in Strange Horizons, Escape Pod, Nightmare, and Uncanny. She is a graduate of the Clarion and Alpha workshops, and has taught at Sarah Lawrence College and the Catapult Workshop in New York.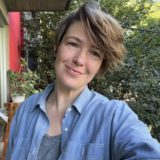 Rebekah White is a journalist and editor from Auckland, New Zealand. She's a graduate of Alpha and nowadays writes non-fiction stories for magazines about science and the natural world. Her byline is in New Zealand Geographic, The Guardian and The Washington Post, and she's given lectures on narrative non-fiction at AUT University and the University of Canterbury. The only place her fiction has appeared so far is in an English exam, in one of those horrible questions requiring students to tell a simile from a metaphor
Andrew Keahey – is a Black, bisexual pop culture analyst and horror writer whose work has appeared in The Black Youth Project and Afropunk. He currently resides in Austin, Texas where he's burning alive, and he's currently doing copywriting for a marketing firm and working on his first dramatic horror podcast to be released later this year. He has no idea what he's doing, but he's giving it his all.
Katie McRury was born in Atlanta, Georgia, grew up and went to college in Pennsylvania, and currently resides in Baltimore, Maryland. She is a 2018 and 2019 graduate of the Alpha Workshop. She reads everything from Austen to Asimov and is also interested in cryptography, watercolors, linguistics, cooking, history, fiber arts, and dinosaurs. Accordingly, she has a Bachelor of Architecture.
Jackson Eflin of Muncie, Indiana, works in marketing and graphic design at the local food bank, then comes home to tend their victory garden and try new bread recipes. They routinely get called "A Forest Goblin" by people who just met them.
Tiera DiGiorgio is originally from Georgia and currently lives in northern Utah with her husband and two chaos cats, where she works as a credential evaluator. She is a coffee-loving Halloween enthusiast and dancer with a healthy appreciation for farmers' markets. She is a graduate of the Alpha and VONA workshops, and her short fiction has appeared in Strange Horizons.
Interested in volunteering with Alpha?