Alpha is pleased to announce that author Rachel Swirsky will teach at the 2014 workshop.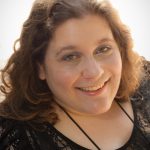 Rachel Swirsky has published over fifty short stories and approximately twenty poems. Her short stories have appeared in magazines and anthologies including Clarkesworld Magazine, Tor.com, and the New Haven Review.   Her short fiction has been nominated for the Hugo Award, the Sturgeon Award, the World Fantasy Award, and the Locus Award, among others. In 2010, her novella "The Lady Who Plucked Red Flowers Beneath the Queen's Window" won the Nebula Award. Her work has been collected twice. The first time, in a slender volume of feminist stories and poems from Aqueduct Press titled THROUGH THE DROWSY DARK. Her second collection, a much larger and longer book, came out from Subterranean Press in September: HOW THE WORLD BECAME QUIET: MYTHS OF THE PAST, PRESENT, AND FUTURE.
Rachel is extremely excited to work with the writers at Alpha. She's been peripherally involved in Alpha by offering critiques of the students' submission stories, and she is thrilled to be able to contribute more.